2023 Georgia Golden Olympics
The 2023 Georgia Golden Olympics is scheduled for September 19–23, 2023 in Warner Robins, GA and surrounding areas. Swimming will be hosted by the Jonesboro Parks and Recreation Department at the Steve Lundquist Aquatics Center in Jonesboro, GA. Registration will be open on May 1, 2023.
Please join us for the competition, fun and fellowship. We look forward to seeing you in September!
Anyone 50 and over can compete in the Georgia Golden Olympics by completing a registration form and sending required documentation of age with registration form to:
Georgia Golden Olympics
PO Box 958
Winder, GA 30680
Returning competitors can register online.
Deadline for Early Registration

August 1, 2023

Registration with late fee until

August 15, 2023
2023
2022
2021
2020
Event canceled
2019
2018
2017
2016
2015
2014
2013
2012
2011
2010
Older
PDF forms require Adobe Reader
2023 National Senior Games

The 2023 National Senior Games is scheduled for July 7–18, 2023, in the City of Champions, Pittsburgh PA. Registration is open for these games.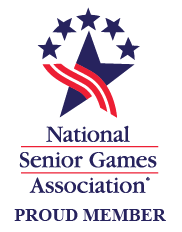 For more information on the National Senior Games Association, visit www.nsga.com.